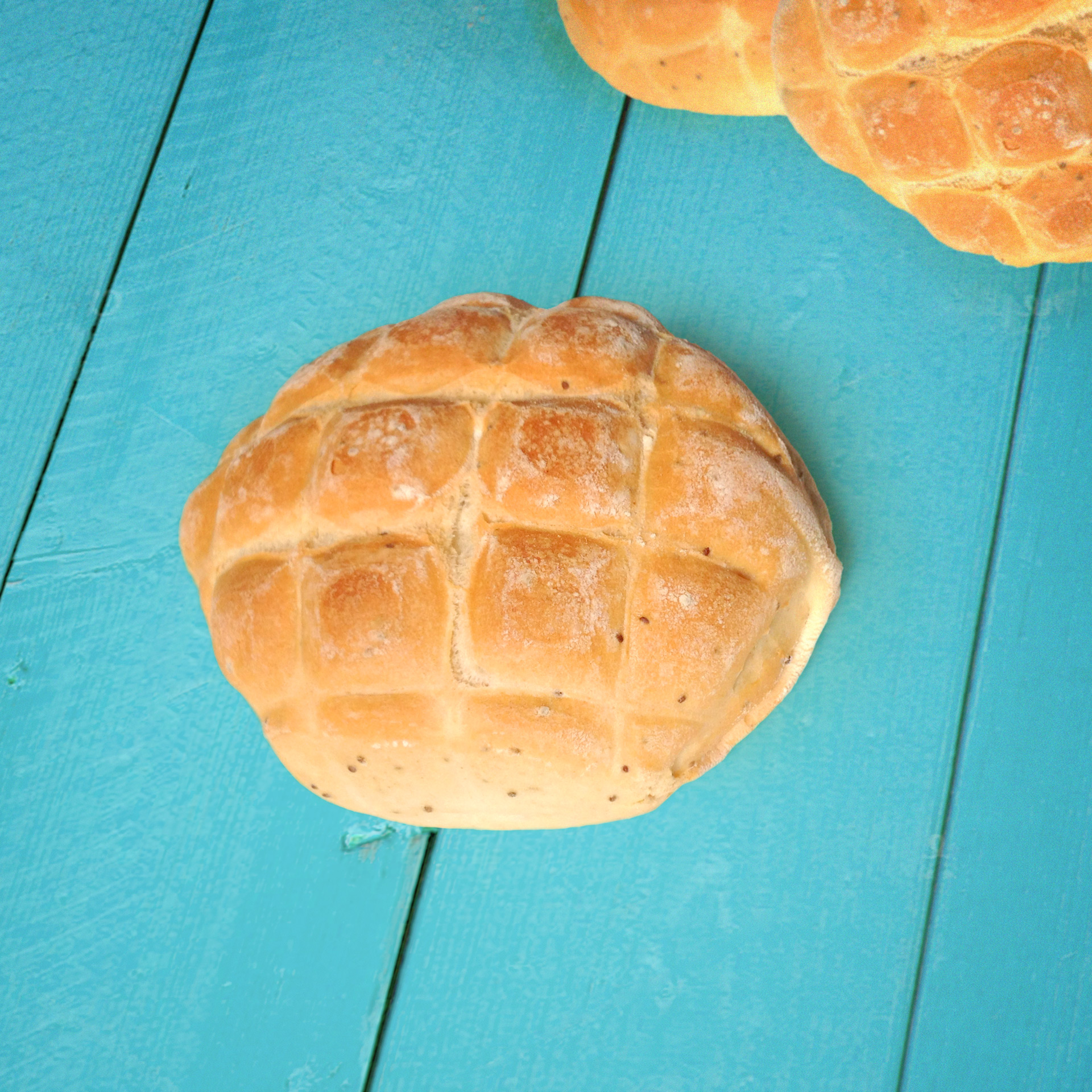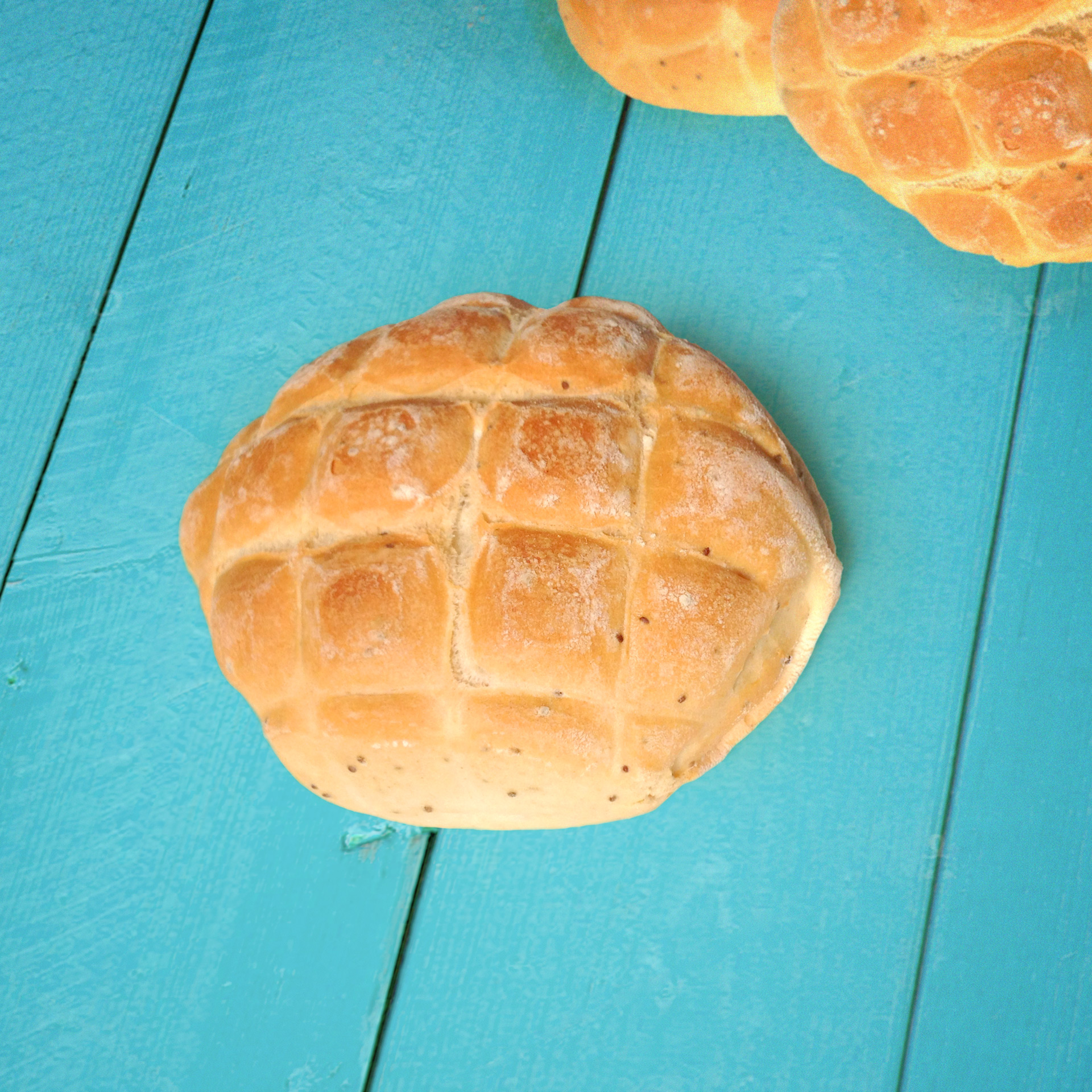 Spelt and Chia Bread
This bread is in the form in turtle. Crumbly crust enclosing a rich and soft sponge crumb, this bread has a stronger aroma than the white one. The chia seeds added to the recipe, turn it into a product from bakery balanced in terms of nutrition and unique flavor.
pane arabo
Pita or Arabic bread is a type of flat bread but one which undergoes leavening. Soft and white it is characterized by fast cooking. Arabic bread is typical of the cuisines of the Middle East (Afghanistan and Turkey), the Mediterranean (Greece) and North Africa; not surprisingly other names for pita or Arabic bread are Syrian bread and Lebanese bread.
pane casereccio
The typical Bolognese bread dough, prepared especially in the country and in large families where they baked bread once a week. Since it was tiring to knead such a firm dough, a tool called a "grama" (literally "wretched"), consisting of a wooden base connected to a stick, was created with which to beat the dough.
pane integrale
Created by utilizing both whole grain flour and refined wheat flour or other grains with added bran. It has fewer calories than white bread and is rich in fiber and minerals such as iron and calcium. An excellent addition for complete and balanced nutrition.
pane bengalino
A small form bread created using soft wheat flour and extra virgin olive oil. A sourdough bread that retains all the characteristics of a natural and nutritious food, with little salt. With a crunchy crust and a rich crumb, pane bengalino lends itself both to accompany main meals and for snacks of small sandwiches.
pane ciabatta
Ciabatta is an Italian bread, of Venetian origin, with a golden crispy exterior and a very airy crumb inside. The typical long flat form of this bread is reminiscent of a slipper, from which it takes its name. A type of delicious bread that can be enjoyed both with cold meats and soft cheeses, or homemade jams and spreads.
pane conchiglia
Durum wheat and olive oil. The classic flavors of the Mediterranean, the simplest ingredients and traditional make this bread, the typical clamshell shape, particularly tasty. Featuring a thin and crispy crust to find on the table the full flavor of the typical fruits of the Mediterranean sun.
Pane qualità controllata
A fresh bread obtained with integrated production techniques that respect the environment and the health of consumers. Simply prepared with soft wheat flour, rich in fiber, a small amount of salt, and extra virgin olive oil. Leavened with natural sourdough, without additives or processing aids. A healthier bread, guaranteed by the QC.
pane crocetta
A bread of firm dough made from white flour, water, yeast and lard. The crust is golden brown with a crumb that is minimized and compact. The shape is elegant and combines in one bread the dry and crispy consistency of a bread stick. An ideal accompaniment for meats, sauces and broths, it keeps well for two days without losing its crispness.
pane domenica
Recommended for the day after its production, as it keeps perfectly. Soft, lightweight and ideal for toasting for delicious sandwiches. The name "Sunday bread" originates from its great characteristic of maintaining freshness so it can be purchased on Saturday for use on Sunday when bakeries are closed.
pane marsigliese
Luciano, the founder of the bakery, he learned to Marseille to knead the bread French. The name "Marseillaise" is derived from this episode and is therefore a bread in all respects identical to the French baguette but the size of a pound. Ideal to be sliced for bruschetta.
pane montasu
Montasu is a bread with a soft crumb and thin crust, produced since the 15th century in a very particular form. It has a small size, with a thin, flaky crust with a glossy, light brown color; the bread is soft with a fragrant scent reminiscent of yeast and flour, with a delicately neutral flavor.
pane rosetta
A bread with ancient origins dating back to the Austro-Hungarian Empire. If the bakers of Vienna were able to obtain a crusty bread, our artisan bakers unfortunately struggled a bit, because of the humidity of the area, before being able to obtain the desired bread until I devised the trick of lightening it by depriving it of the crumb.
pane tartaruga
A type of bread made from a dough prepared with a mix of vegetable fats that renders a slightly sweet taste to it. Characterized by a crisp crust, with the typical square patterns reminiscent of a turtle's shell, the loaf opens to reveal a very soft, spongy full crumb.